About TISSNET
Tata Institute of Social Sciences conducts TISSNET (National Eligibility Test) in online mode to offer admission into the postgraduate program in one of its campuses. The exam is scheduled to be held on January 4, 2020 from 2 PM to 3:40 PM in 40 cities across the country.
TISSNET Registration 2020 commenced from October 18, 2019. The last date to fill the application form is November 30, 2019.  [Date Extended]
Candidates must possess a graduation degree in any discipline from a recognised university to satisfy TISSNET Eligibility Criteria.
The exam comprises of 100 multiple-choice questions which are to be solved in 100 minutes.
There is no negative marking applicable in the exam. 
TISSNET Syllabus includes General Awareness, English Proficiency and Mathematics and Logical Reasoning. 
Candidates qualifying the test will have to appear for Pre-interview Test/Group Discussion and Personal Interview. 
The Article discusses about
Exam Timeline,
Eligibility Criteria
Application Process
Exam Centres
Exam Pattern and Syllabus
Selection Procedure [TISS has changed its Selection Procedure for Admissions in 2021]
Course Wise Previous Year Cutoff's.
TISSNET 2020 Highlights
The key points about TISSNET 2020 are highlighted below:
Exam Name

Tata Institute of Social Sciences
National Entrance Test
(TISSNET
Conducting Body
Tata Institute of Social Sciences
(TISS)
Exam Level
National Level
Periodicity
Yearly
Minimum Qualification
Bachelor's Degree
TISS Courses
M.A./ M.Sc./ M.P.H./ M.H.A.
Application Mode
Online
Exam Mode
Online (Computer-Based Test)
TISSNET Helpline Number
022- 25525919/ 5920
TISSNET Website
admissions.tiss.edu
TISSNET 2020 Exam Dates
TISSNET 2020 will be held on January 4, 2020. The tentative dates for TISSNET 2020 are given below:
| Events | Dates |
| --- | --- |
| Availability of TISSNET Application Form 2020 | October 18, 2019 |
| Last Date of TISSNET Application Form 2020 | Nov 30,2019[Extended] |
| TISSNET 2020 Admit Card Date | Dec 18-19,2019 |
| TISSNET 2020 Exam Date | Jan 04,2019 |
| TISSNET 2020 Result Date | Feb 04 |
| Pre-Interview Test and Personal Interview | March 11-21,2020 |
| Announcement of Final Result | April 21,2020 |
TISSNET Eligibility Criteria
Tata Institute of Social Science specifies TISSNET Eligibility Criteria as mentioned below:
A bachelor's degree of minimum 3 years duration or equivalent in any discipline from a recognized university.
Candidates in their final year of graduation are eligible to apply for TISSNET.
Candidates studying in the final year of their graduation but have not passed in all their previous years' papers are not eligible to apply for any of the master's courses offered by TISS.
There is no age limit criteria nor restriction on the number of attempts
TISSNET Application Form 2020
TISSNET 2020 Application Form can be filled in online mode only. However, candidates residing in a region with no internet connectivity can get a printed form by sending a request to Assistant Registrar (academic) along with application fee through speed post. Candidates can apply for a maximum of 3 programs at 2 different campuses of TISS in a single form with additional fees.
How to Apply for TISSNET 2020?
Visit the official website of TISSNET i.e. admissions.tiss.edu.
Register using your valid Email-ID. Candidates must note that the email id will be used for future communication, therefore, they should provide valid e-mail ID.
After TISSNET Application Form opens up, enter all your academic, personal and preferred course details.
Pay the requisite application fee (depending on the number of programs applied) either by online or offline mode.
Scan and upload your photograph, signature, marksheet of the last exam passed and other necessary certificates.
TISSNET Admit Card 2020
TISSNET 2020 Admit Card will be available on December 18, 2019 at the official website of TISS i.e. tiss.edu. Candidates also receive a link at their registered email ID to download the hall ticket of TISSNET 2020.
TISSNET Exam Centers 2020
TISSNET 2020 will be conducted at 40 exam centers across India. The complete list of TISSNET Exam Centers is given below: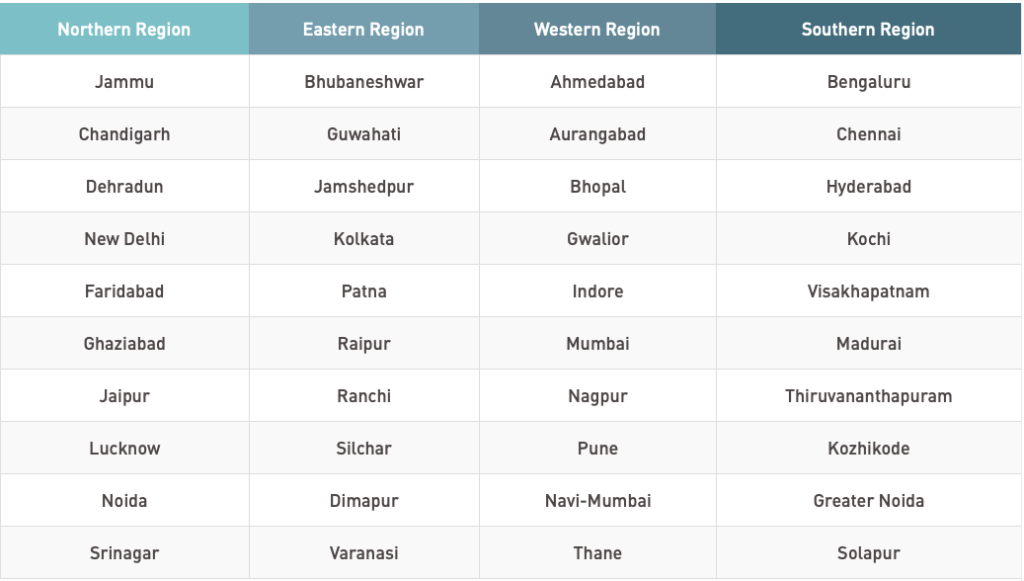 TISSNET Exam Pattern 2020
TISSNET 2020 will be heldin online (computer-based) mode.
Questions will be asked from General Awareness, Mathematical and Logical Reasoning and English Proficiency.
Some of the important highlights for TISSNET Exam Pattern is mentioned in the table below.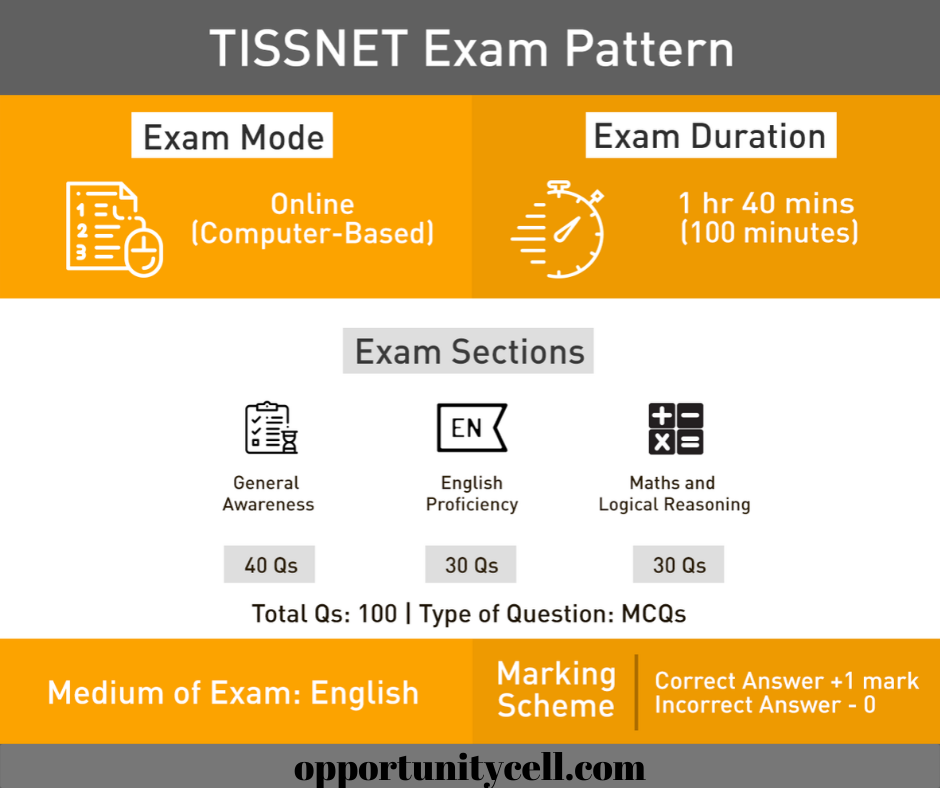 Exam Mode
Computer-Based Mode
Number of Questions
100
Question Type
Multiple Choice Questions
Number of Sections
3 (General Awareness, Mathematical and
Logical Reasoning and English Proficiency)
Time Duration
1 hour 40 minutes
Sectional Time Limit
No
Marks per Question
1 Mark
Negative Marking
No
Section-wise TISSNET Exam Pattern
As given above, the question paper will be divided into 3 Sections. The weightage of questions and marks of each can be seen below:
| Sections | No.of Questions | Marks |
| --- | --- | --- |
| General Awareness | 40 | 40 |
| Mathematical & Logical Reasoning | 30 | 30 |
| English | 30 | 30 |
Use of Scribe- Candidates with visual impairment will be given an option to have a SCRIBE to assist them to complete the test. The SCRIBEshould be an undergraduate student and should bring a valid ID proof at the time of the test. Persons with Disabilities who have a disability of 40% or more will get a compensatory extra time of 20 minutes per hour.
---
TISSNET Syllabus 2020
All important topics of the 3 sections in TISSNET are given below. Make sure you leave no stone unturned while you prepare for the exam. Practice as many TISSNET Sample Papers as possible, so that you get a hang of the most recurring questions.
Awareness of Social
and General Issues
Logical Reasoning
English Proficiency
Recent social issues
Time and work
Reading comprehension
Economic processes
Time andDistance
Vocabulary
History
Basic geometry
Acronyms
Geography
Ratio
Analogy
General Geology
Percentage, Average
Pairing of words
Meaning of terms
Square root and Basic algebra
Synonyms and antonyms
Personalities
Simple and compound interest
Fill in the blanks
Sociological awareness
Properties of shapes
Rearrange the sentences
Social activities and
movements
Mixtures and Allegations
–
Films
HCF, LCM
–
Fine arts and music
Speed-distance-time
–
Literature
Areas, Volumes
–
Current Affairs
Basic set concepts
– –
---
TISSNET Selection Procedure 2020
TISS has made significant changes in the admission process from the year 2020-21. Candidates are advised to read the guidelines given below.
Admissions to Masters Programmes at TISS is done through a two-stage process with three components.
Stage 1: TISS-NET (TISS National Entrance Test) – TISS-NET is a common screening test for all Masters Programmes across all the campuses and centres. TISS-NET is aimed at shortlisting candidates for Stage 2 based on differential cut-offs for different programmes depending on the number of seats, number of applicants and the scores secured by the candidates.
The score for the TISSNET will be used only to shortlist the candidates to be called in for Stage 2 and the score will not be added to the final score for selection.
PLEASE NOTE: Candidates applying for (i) MA Human Resource Management & Labour Relations (HRM &LR) and (ii) MA Organisation Development, Change and Leadership (ODCL) of Mumbai Campus will have a Management Aptitude Test (TISS-MAT) conducted along with TISS-NET for 45 marks for a duration of 30 mins. The score for MAT will be added to the PIT score of the shortlisted candidates while preparing the final score for the selection.
Stage 2: PIT / PI (Pre-Interview Test and Personal Interview) – PIT/PI are programme specific and might have variations across different programmes. Some of the programmes have Group Discussions (GD) or Aptitude Test (AT) as part of PIT. The details of programme specific components are provided against each of the programmes.
---
TISSNET Merit List 2020
Once all the 3 stages of TISSNET Selection Process are done, TISS will prepare a final merit list of selected students. The weightage given to all these stages is given below for your reference. Students who secure the maximum marks have chances of getting their preferred college.
The candidates applying for Master Programs at TISS other than (i) MA HRM&LR and (ii) MA ODCL the weightage given to all the stages is given below for your reference.
| Particulars | Weightage |
| --- | --- |
| TISSNET 2020 | Nil |
| Pre-Interview Test (PIT) | 70 |
| Personal Interview (PI) | 30 |
| Total | 100 |
In the case of candidates applying for (i) MA HRM&LR and (ii) MA ODCL the weightage given to all the stages is given below for your reference.
| Particulars | Weightage |
| --- | --- |
| TISSMAT 2020 | 30 |
| Pre-Interview Test (PIT) | 40 |
| Personal Interview (PI) | 30 |
| Total | 100 |
Merit List Preparation:
Programme wise Open (Unreserved) Merit List (OML) will be prepared on the basis of (i) the aggregate score as above and (ii) the candidate's preference of programmes as given in the online application form. OML will be prepared without consideration of the category they have applied, thus providing opportunity for all candidates to get selected in the OML depending on their aggregate score.
After considering all the candidates in OML, separate Category wise Merit List (CML) will be drawn for the number of seats reserved for each category as per the Government of India / University Grants Commission regulations on the matter.
In case of a tie between two candidates with their aggregate score for selection as above the following framework will be used to select the candidate.
Each candidate will be able to view the score card indicating the score received in each of the components (TISS-NET, TISS-MAT (if applicable), PIT and PI) in addition to the aggregate score.
| | | |
| --- | --- | --- |
| Sl.No. | Situation of Tie in | Selection will be based on Higher |
| 1. | Final Score (PIT and PI) | PI Score |
| 2. | If also in PI Score | PIT Score |
| 3. | PIT Score too | TISS-NET Score |
| 4. | TISS-NET Score too | Age |
Rules for preparation of the wait-list
Preparation of Wait List for each of the programme and categories will be done following the same rules as for Merit List.
Candidates who get admission to the programme of their first preference will not be on wait-lists for any other programme mentioned in their list of preferences.
Candidates, who receive an admission in a programme lower in their order of preferences, will be retained in the wait-list of a preference higher in the order, till the seats in that programme are filled.
When a candidate who has already taken admission in a programme as per the first merit list is subsequently offered the higher preference when the wait list is activated, such candidate will be moved into the programme of higher preference and they will have no claim for the lower preference. In such cases no requests for retaining the admission in the lower preference will be entertained.
---
TISSNET Result 2020
TISSNET Result will be declared in February 2020 at the official website i.e. tiss.edu.
TISS releases the result in the form of a scorecard.
Candidates are selected based on their marks they will score in the entrance exam.
TISSNET merit list displays the shortlisted candidates who are then called upon for Pre-Interview Test (PIT)/Group Discussion and Personal Interview (PI).
The final list of the selected candidates will be displayed in April/ May 2020.
---
TISSNET Cutoff
TISSNET Cutoff will be released along with the result.
Cutoff is the minimum qualifying marks that a candidate must obtain to stand eligible for the next selection rounds.
The minimum qualifying marks for the written test is 35% (for SC/ ST) and 45% (for others).
Some of the factors that determine TISSNET Cutoff include previous year cutoff, the difficulty level of exam, number of test-takers, etc.
Given below are the expected category-wise cut off marks for TISSNET 2020. However, TISS will declare the official cutoff in February 2020.
Previous Year TISSNET Cutoff (2019)
TISSNET 2020 Cutoff will be released after the conclusion of the exam. Meanwhile, candidates can check previous years' cutoff to know approximately how much they will need to score in upcoming exam. The cutoff for year 2019 are given below:
| TISSNET Program | TISSNET Cutoff 2019 |
| --- | --- |
| MA Human Resource Management | 72 |
| MA Globalisation and Labour | 67 |
| MA Public Health | 61 |
| MPH Social Epidemiology | 50 |
| MA Applied Psychology | 57 |
| MA Culture and Media Studies | 65 |
| MA Mental Health | 54 |
| MA Women Studies | 48 |
| MA Social Entrepreneurship | 62 |
---
Important Links
To Apply for the TISSNET Click Here
To Go to the Official Site, Click Here
To Go to the about the Official Site for Selection Procedure, Click Here
---
If you have any queries, comment in the comment box, experts will reply to it within 24 hours.