About CRISP
Centre for Research in Schemes and Policies (CRISP) is an organisation formed by 10 senior civil servants, who have served at the level of Secretary to Government of India, for working with the State and Central Governments for designing/redesigning schemes and policies in the Social Sector. It desires to make large-scale impact by conducting 'concurrent evaluation' of schemes, setting up monitoring systems, and drafting policies covering rural, urban development, poverty alleviation, education, health and institution building. The objective of CRISP is to bring systematic reforms, thus shifting focus from input- oriented implementation to outcome-focused roll-out.
CRISP proposes to set up a highly accomplished and professional team with expertise in social sector, data analytics and report writing for accomplishing its objectives.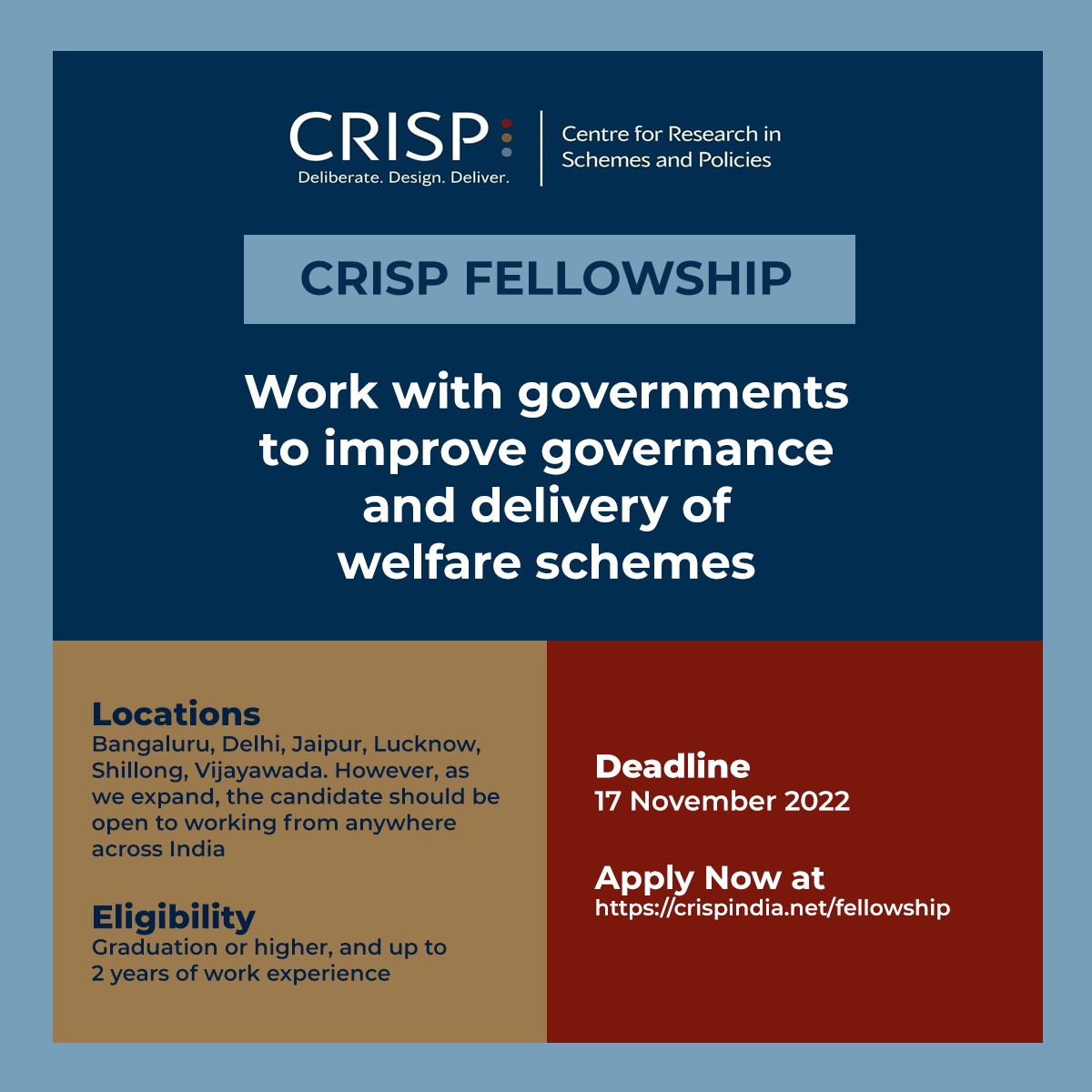 CRISP Fellowship Programme
The CRISP Fellowship Programme is a one-of-its-kind experiential learning model in India that involves strategic collaboration between CRISP and State/Central governments, helping young professionals work at high echelons of governance in the social sector. The Fellowship provides a platform for young talent to drive impactful large-scale projects while working closely with the public administration.The Fellowship will enable CRISP Fellows to work on domains like policy implementation, data analysis, high quality report writing and strengthening existing government initiatives.
During the programme, CRISP Fellows will streamline implementation of government's flagship programmes across various thematic areas in the Social Sector.CRISP Fellows will act as catalysts in achieving the desired outcomes while ensuring transparency and accountability in the process for reaching the last mile. They will drive convergence between various government stakeholders and departments within the administration to re-engineer processes and de- bottleneck implementation challenges.
CRISP Fellows would be required to travel for 15 days a month in the field, interact with the beneficiaries of the programmes and bring stakeholder feedback about the programme implementation, along with suggestions for improving the implementation.
Join our WhatsApp and Telegram groups to stay updated with all opportunities!
Key Learnings as a CRISP Fellow
Opportunity to hone technical/ non-technical skills and exposure to the inner workings of the Government.
Experience in administration of social welfare and economic development projects.
Stakeholder management through the implementation of government policies and schemes.
Access to and guidance from experienced and senior decision-makers.
Connection to a broad network of development institutions and actors
Duration
The Fellowship will be a two-year full time paid programme.
Remuneration
Each CRISP Fellows will receive a remuneration of Rs. 75,000/- per month, subject to taxes. In addition, travel expenses for field visits undertaken in the state will be reimbursed.
Eligibility Criteria
A bachelor's degree or higher from a renowned educational institution
Preferably in policy-relevant subjects including Public Policy, Economics, Development Studies, Business Management, Law, Human Resources, Accounting etc. Candidates with academic and practical experience in technology, data management and analysis, and systems design/ architecture are also encouraged to apply.
Good educational record, and evidence of having participated in activities or should have internships in socially relevant programs at the college level.
Upto 2 years of work experience after graduation
Proficiency in English and in one among following languages- Telugu/Kannada/Hindi
Location
CRISP Fellows will work on projects which will be based out of StateCapitals/major cities in the country.
Although in the first phase, CRISP Fellows are expected to be deployed in 4 states viz. Andhra Pradesh, Karnataka, Meghalaya and Rajasthan, they can be deployed anywhere in India depending on the requirement.
Timeline
Application Start Date : 20th October, 2022
Application deadline : 17th November, 2022
Intimation of shortlisting: 21st November 2022
Personal Interview over VC: 25th-30th November, 2022
Roll-out of Offers : 1st December, 2022
Joining : 2nd January, 2023
How to Apply
Join our WhatsApp and Telegram groups to stay updated with all opportunities!